Days of the Raj is located amongst the hustle bustle of the Aurobindo Marg. I was really looking forward to a phenomenal evening with a lot of alluring & lip smacking food and that's what I got. The restaurant is very clean and elegant and had something about it that helped me relate it to the days of the raj with the ambience being very positive & aesthetically pleasing. They have live Indian music playing band on all weekdays except Monday and Tuesday. The restaurant was very brightly done up with big chandeliers & ceiling lamps, which gave a touch of the British Raj to this beautifully done up restaurant. Soon, I was greeted by Mr Chandrabhan, Sr. Captain & Mr. Mohinder, manager of the restaurant. They both were extremely polite & helped me to choose the dishes. The menu has a vast range of food with influence from the Indian and the Anglo-Indian cuisine.
For starters, I placed an order for Mango Chutney filled Potato croquettes. The dish consisted of mashed potatoes stuffed with mango chutney, finely chopped carrots, green beans & parsley. It was served with mango chutney, coleslaw salad & fries. The dish was very well cooked & crisp though it was a little sweet on the inside as it contained mango chutney.  The mango chutney which was served along was a blend of mango & tamarind so it was sweet and sour at the same time & went very well along the dish.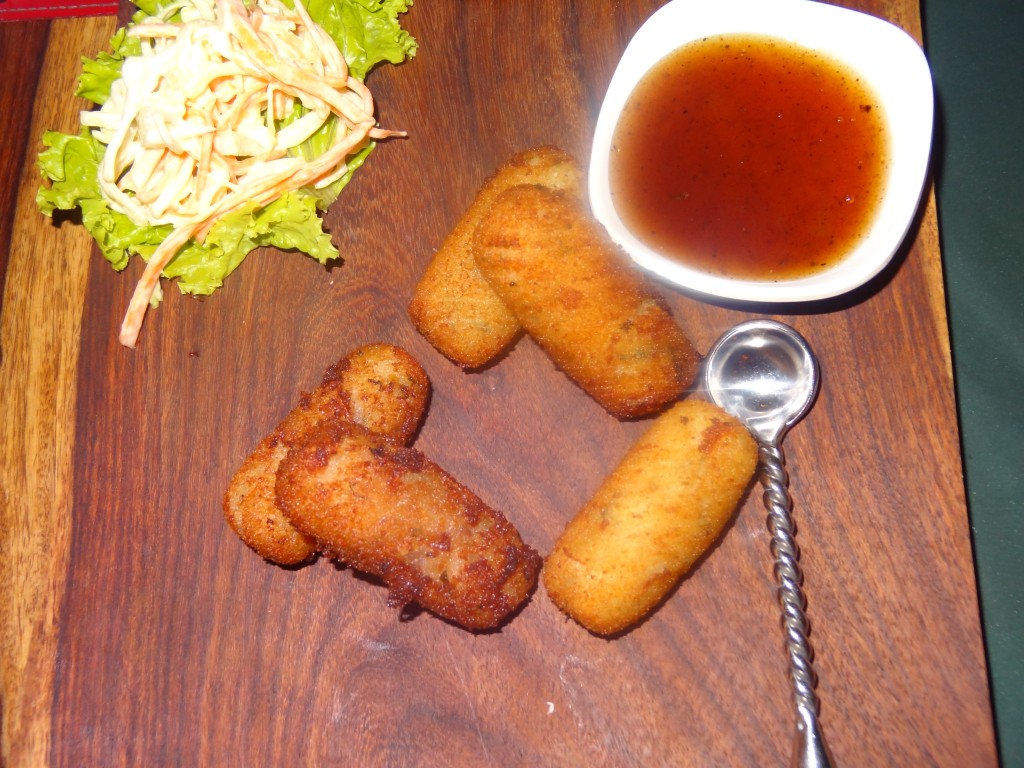 The second starter that I ordered was Veg Railway Cutlets. Inspired by the railway breakfast, these cutlets were made from mashed potatoes, consisting of fine chopped vegetables like green beans, carrots and then deep fried. They were served with ketchup, coleslaw salad and fries. The veg cutlets were very enticing & tasted lovely.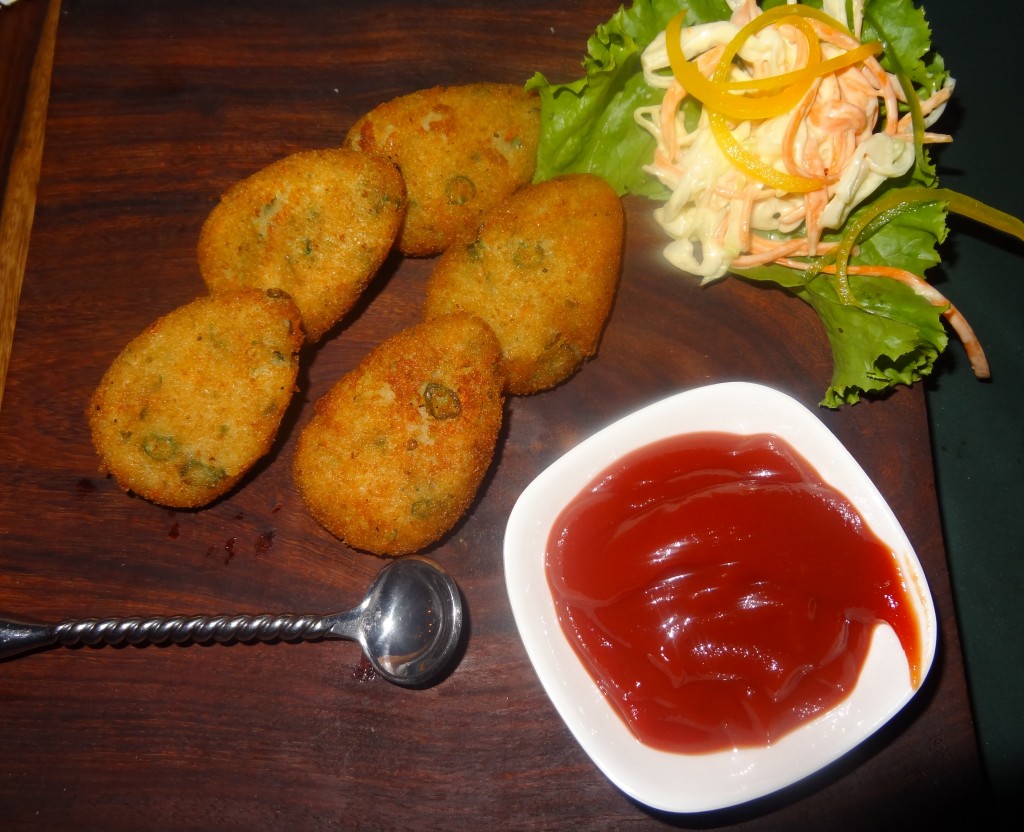 The third starter that I ordered was quite relevant to my previous starter. This was the Chicken Railway Cutlets, which consisted of minced chicken with a fine onions, celery leaf & parsley served with ketchup, coleslaw salad & fries. They were good but for me the Veg Railway Cutlets was the star.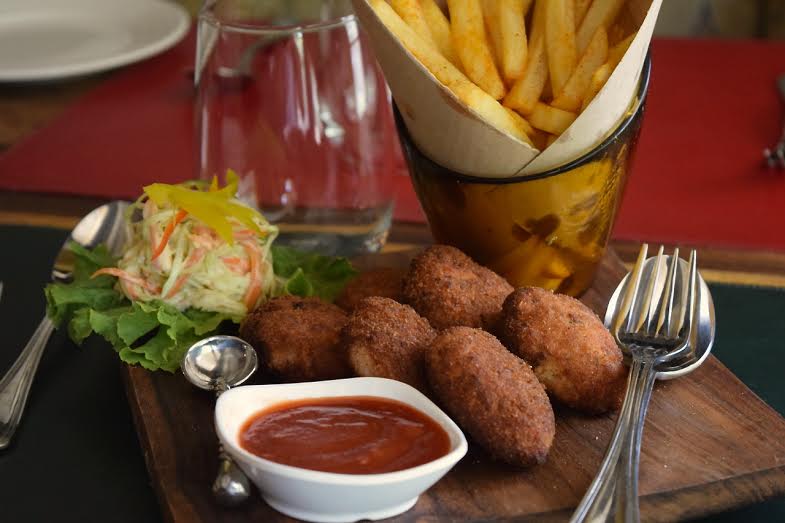 My fourth starter which was the Vegetable Cigarillo looked somewhat like a small cigar but was not even close to being one, obviously. This dish was something different and may be a little offbeat for the common man because you generally don't come across such a dish. This dish was made up of yellow cheddar cheese & figs, wrapped in a flour sheet in the shape of a cigar, which completely does justice to the name of the dish and is deep fried & served with sour cream. I personally didn't like this dish because the flavour was very strong.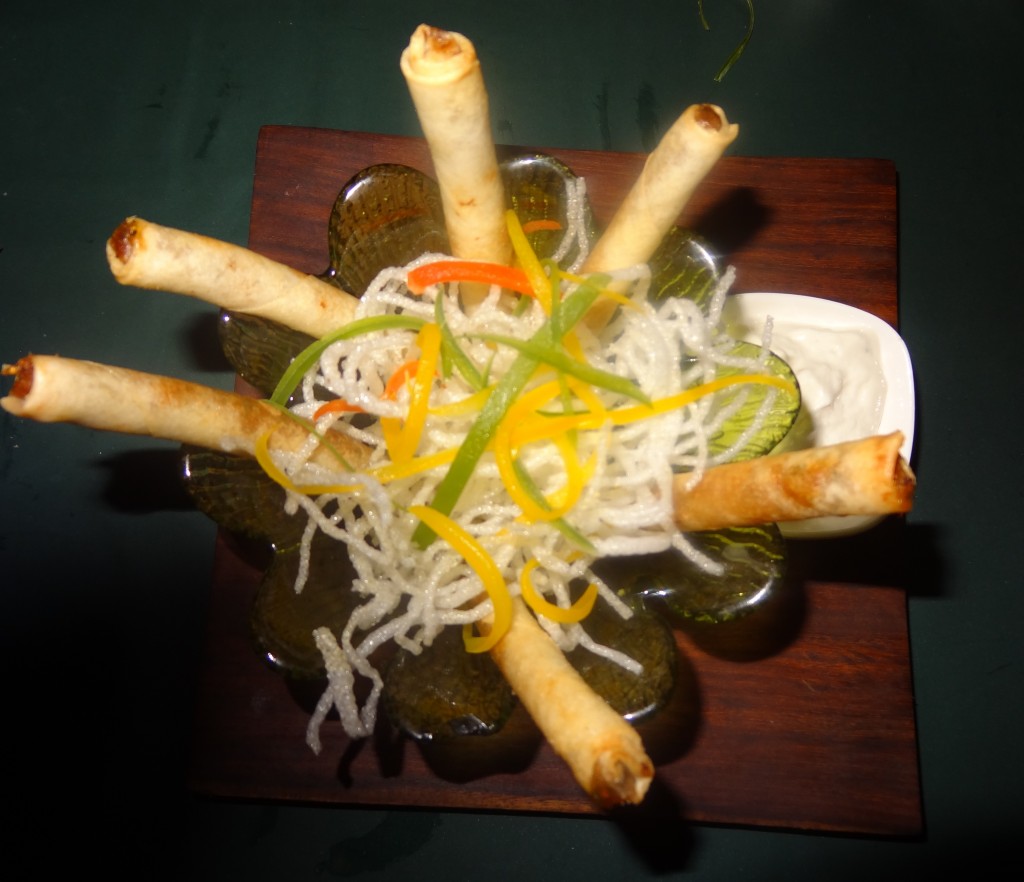 My fifth and the last starter was Masala Keema Scotch Eggs, this was another dish that left me astonished as I had never really come across such a dish. It is made up of boiled eggs marinated with mutton keema and then deep fried which are then cut into two parts. It is then topped with minced mutton & brown sauce and garnished with coleslaw salad. The eggs were very moist & well boiled with the outer covering being crispy, hot & spicy. I loved the combination & found it to be a very interesting dish.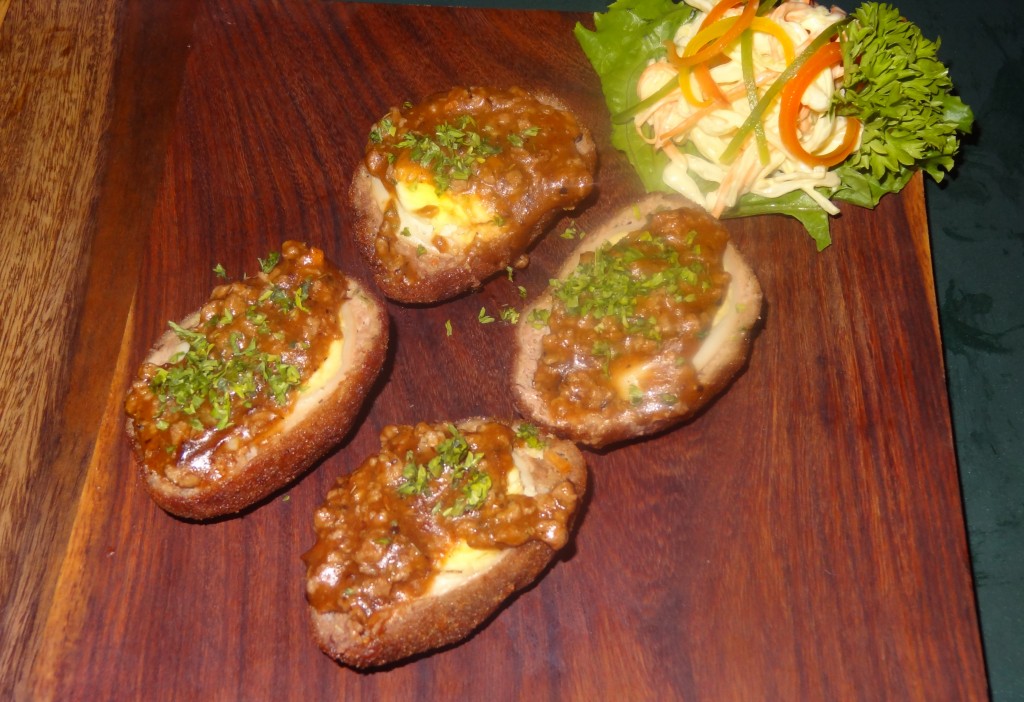 Moving onto the soups, I ordered a Royal velvet chicken soup. This soup contained boneless chicken stocks which were not spicy at all and were served with garlic bread covered in continental sauce & garlic. The soup was served piping hot and the ingredients very soft and nutritious, just as good as the name the soup was fit for a king.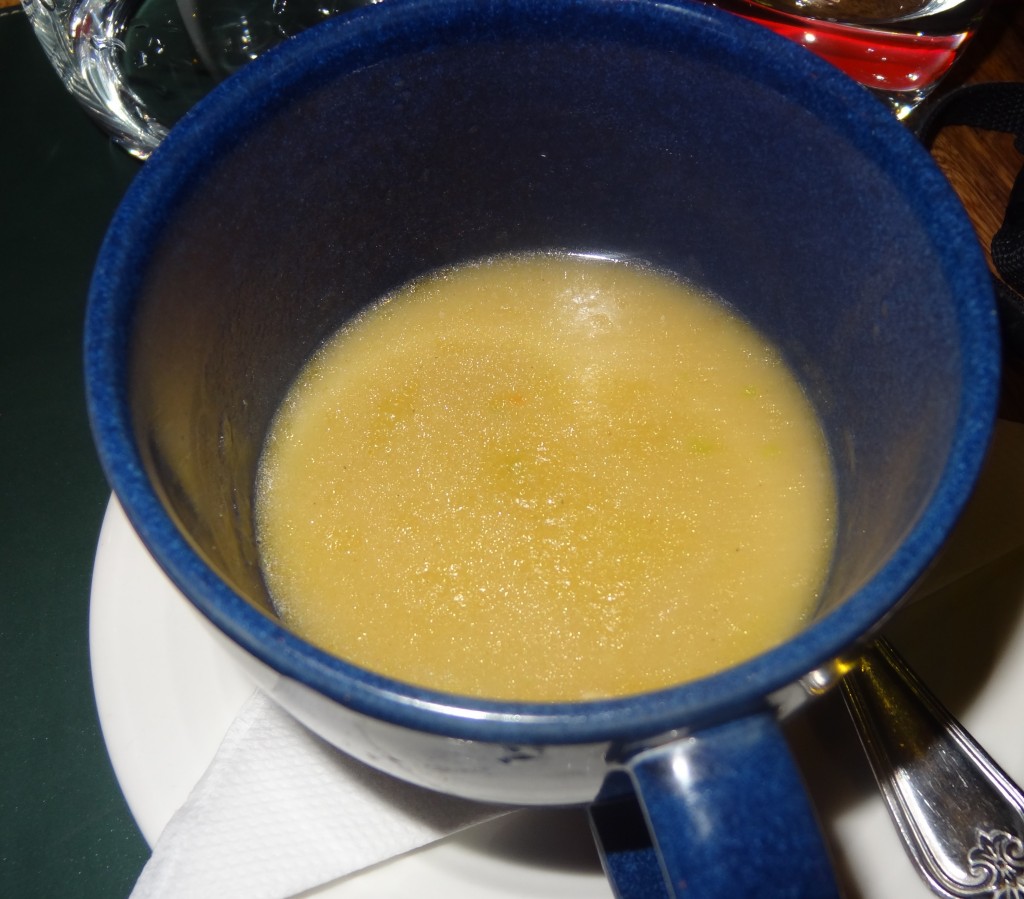 After such a scrumptious encounter I tried a mocktail called the Virgin Colada. This was a very luscious drink, made up of coconut cream, coconut syrup and pineapple juice, the ingredients were blended really well. Garnished with a freshly cut slice of pineapple on the top of the glass, served in a cocktail glass.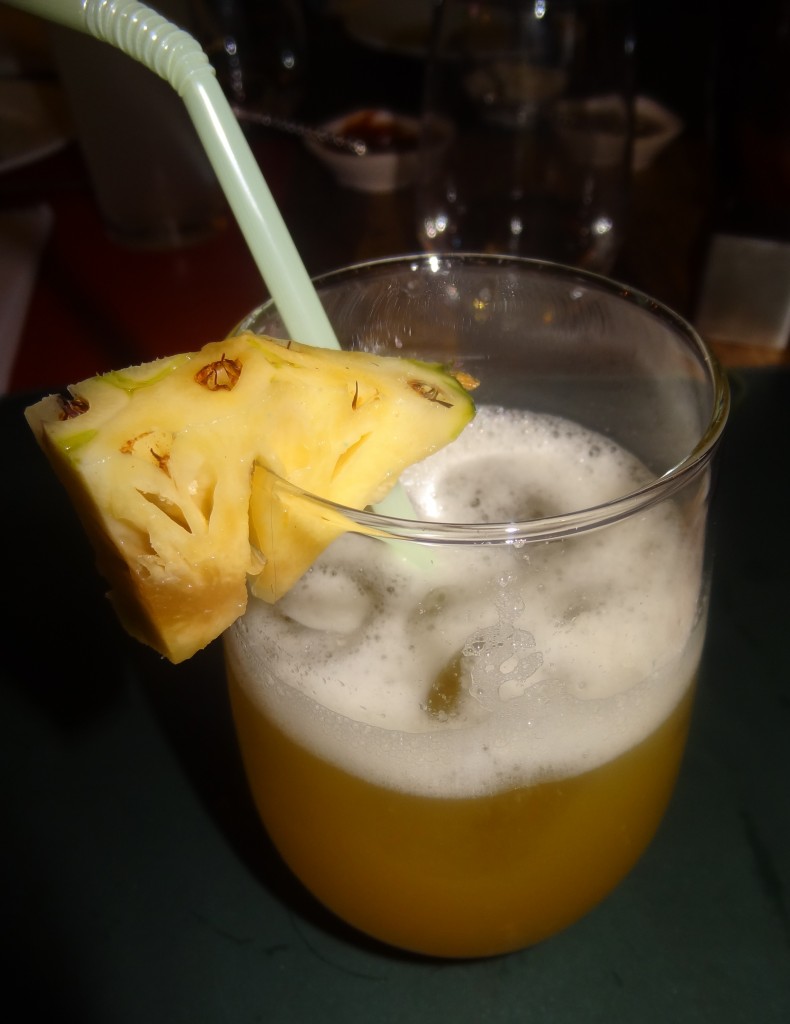 For the main course we ordered the Killer Penne Chicken Arrabiata Pasta. This spectacular dish really killed our minds away, made from Penne pasta and Arrabbiata sauce. The sauce is a vital part of this dish which is made from tomatoes, garlic & red chili peppers and then cooked in olive oil. The pasta also contained cherry tomatoes, chicken cubes, ketchup, oregano, crust pepper & chilli flakes. Garnished with basil leaves and parmesan cheese. The aftertaste of the dish was very cheesy, smoky & spicy.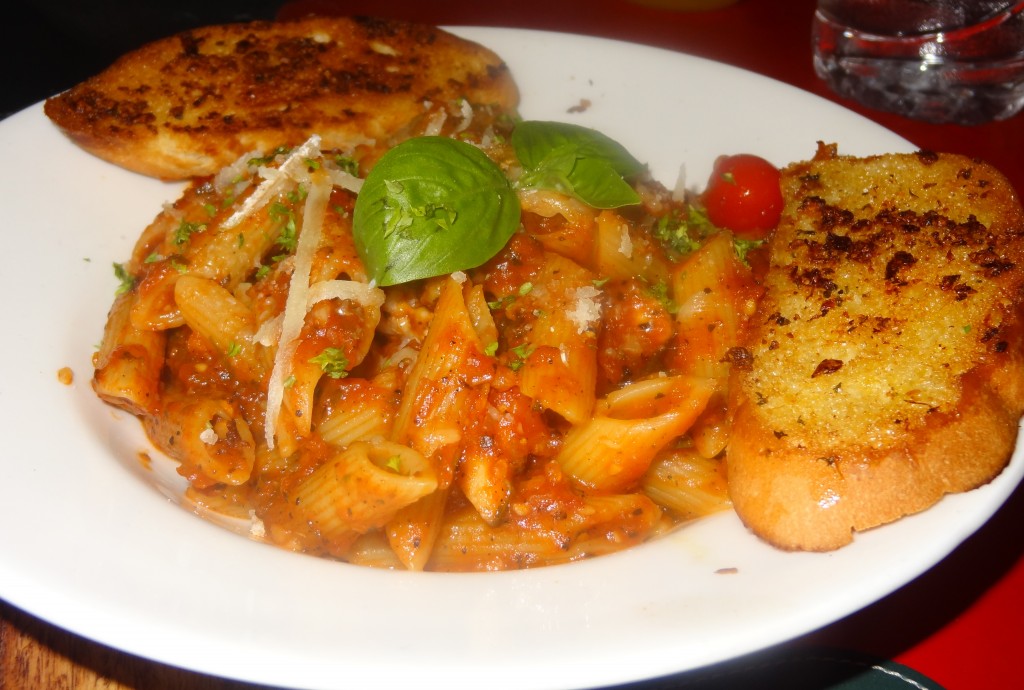 We also ordered the Safari Ghosht, Safari as it means Journey in Urdu, this dish has its own journey as it is cooked without water in its own juices over a period of time. This dish was strongly flavored with red chilies & pepper. It was a spicy dish without being too hot. The aftertaste was really juicy & flavorsome and undoubtedly my favourite from their menu.
How can a dinner be complete without the Indian classic Dal Makhani? The Dal here is cooked over quite a span of time with lots of curry & cream that makes it taste even better.  It was absolutely delicious.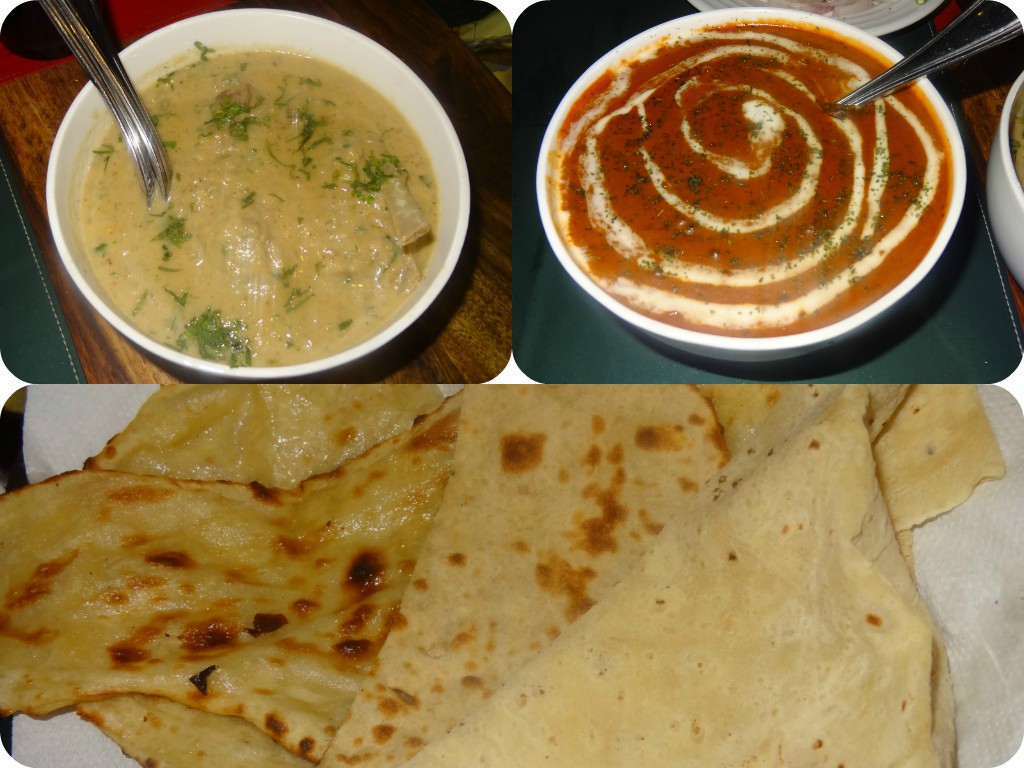 The breads that we ordered along were Rumali Roti, Butter Naan and Tandoori Roti. All of them were served hot & were soft.
In the end I ordered a pudding called Days of the Raj Special Pudding. This pudding was made of sweet bread which contained exotic fruit cocktail filled with cream & garnished with a cherry on the top. The aftertaste of the pudding was very refreshing, you can taste the fruit's juices in your mouth. It was very mouthwatering & pleasing at the same time.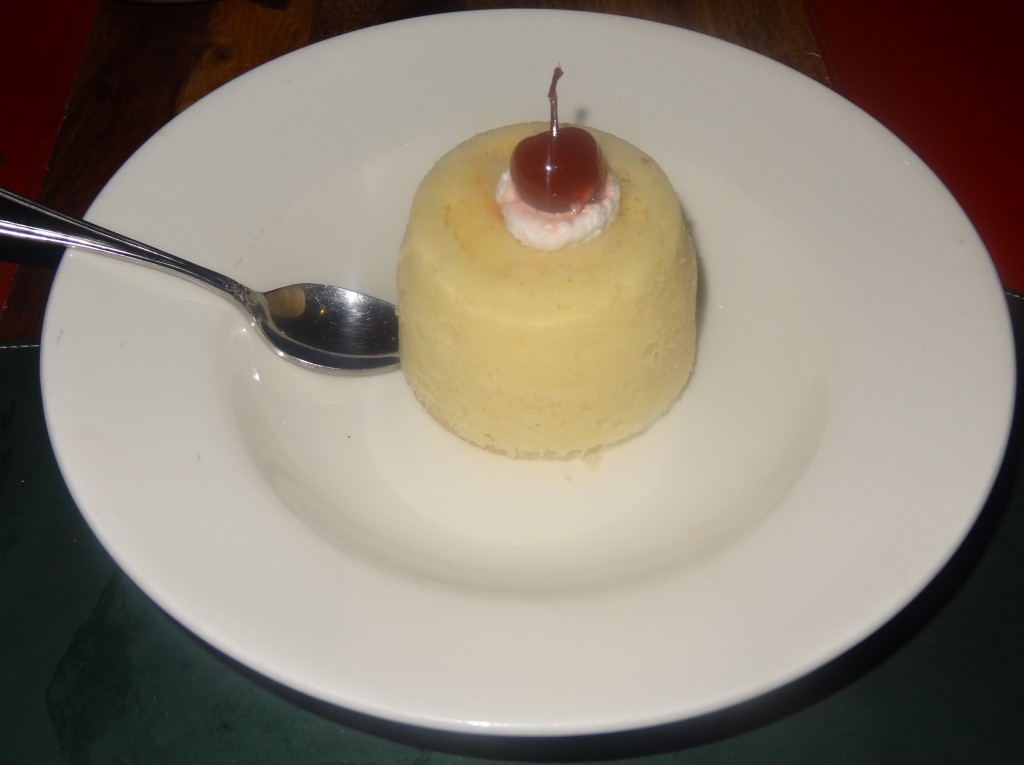 After the pudding I tried the Gur Ki Kheer which was a kheer made of Gur, milk & basmati rice and garnished with dry fruits like kesar, pista & almonds. The kheer was very thick and good in quantity with the aftertaste being very sugary.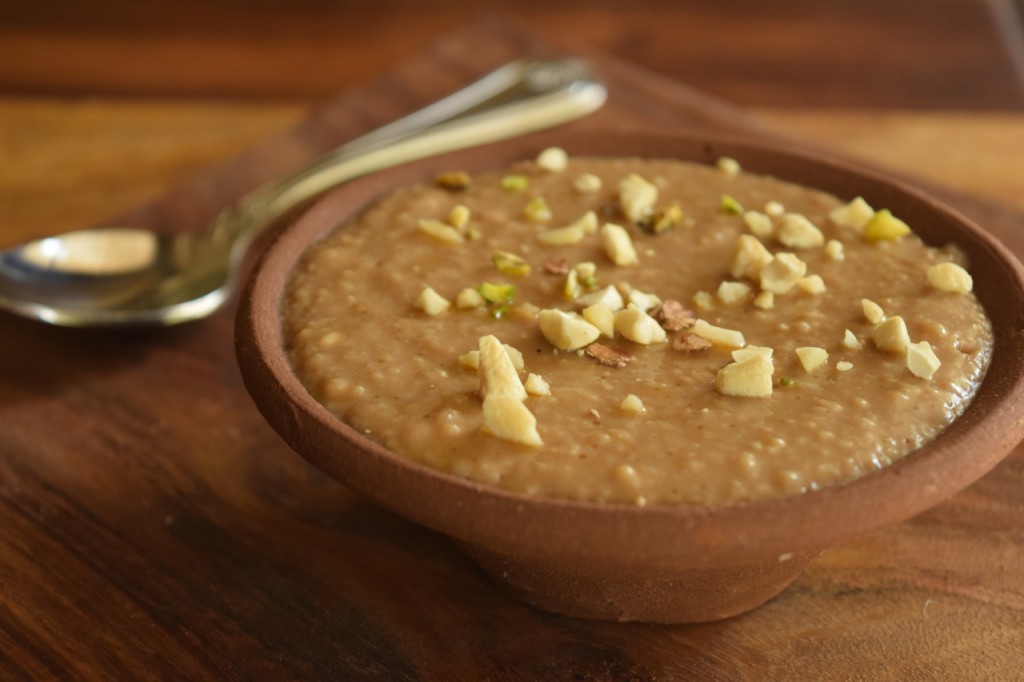 In the end, I also met Chef Bhupendar Singh who is the continental chef at the restaurant & has worked as a commis three chef in Fidalgo Hotel back in Goa and came to the capital to discover new endeavors. They have 2 main chefs in the restaurant- 1 for continental & the other for Indian.
I had a lovely experience at The Days of the Raj, definitely something different & one of a kind. A true Kohinoor!
Review Credit: Uday Singh Dhanoa